Version: 1.0.0
If you just want an example strategy check here.
Create a new strategy​
On your homepage, click the plus button under "My Strategies" and give your new strategy a name
Follow the todo-list on the right side of the builder. You'll choose a strategy type and an asset to trade
Swap to code-view​
To use Python, swap to the "Logic" tab and then to the "Code" view to check out your new strategy's source code. You'll see an empty method that looks like this —
def

 

handle_new_bar

(

data

:

 VelocitySlice

,

 emit

:

 Emit

,

 atoms

:

 VelocityAtomManager

)

:




    

pass



Strategy Lifecycle​
Strategies have a lifecycle. The lifecycle for historic tests, paper trading and live trading will be the same, just on different time scales.
At the start of a test, Pluto collects indicators and data points the strategy requests. This collection process enables us to pre-fetch needed data for the test.
Once we know what's needed; we fetch the OHCL data and compute derivate data like indicators
Your strategy's defined handle_new_bar method is provided slices of data, one by one, but not in order.
Your strategy emits signals — the emitted signals are collected for processing
Signals are processed in chronological order to produce an order book, equity curve, and other test results
Run a Test​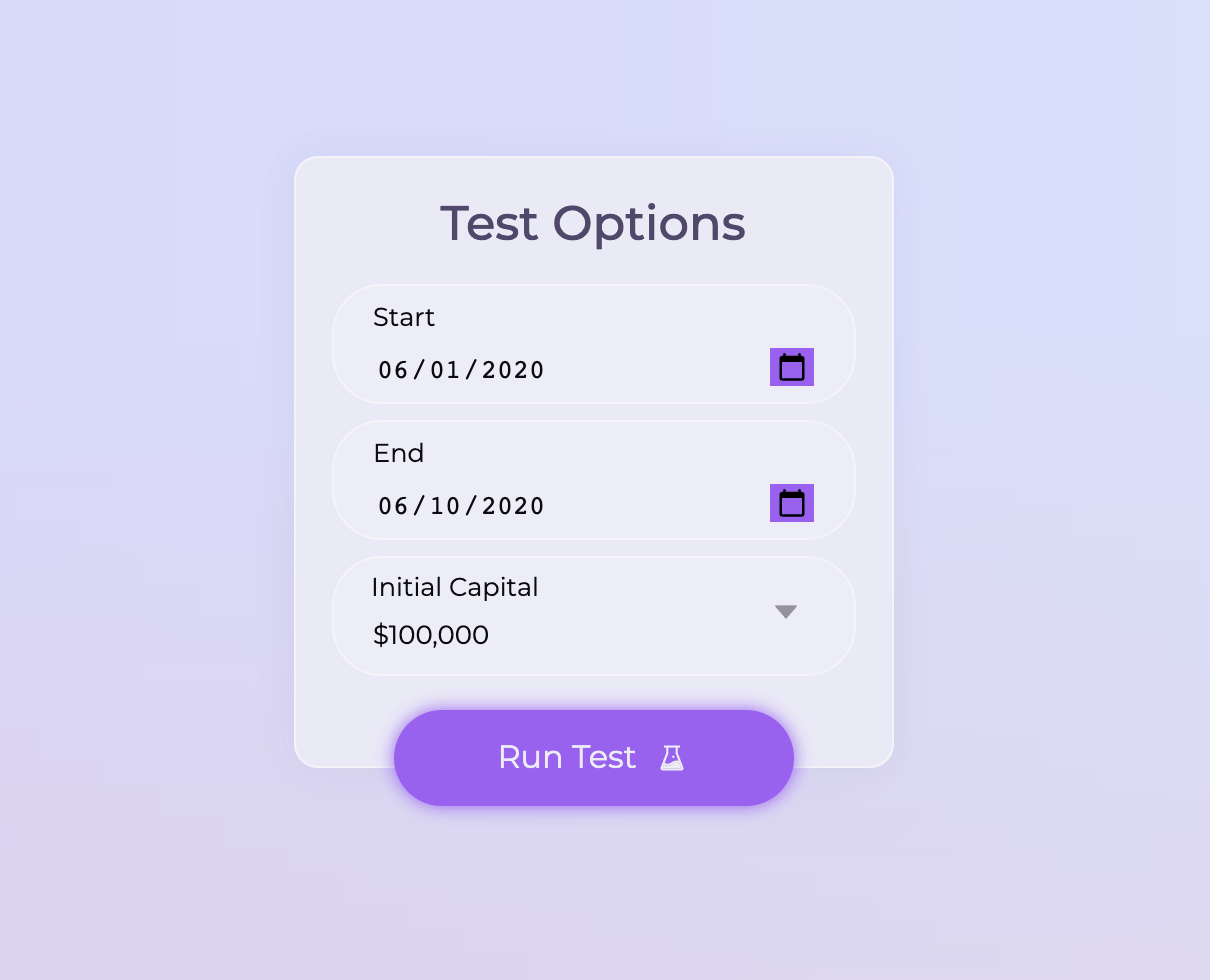 The next step to developing your strategy is to run your first test. You'll see "Test Options" beside your new strategy once you have completed the todo-list.
Pick dates and an initial capital
Click "Run Test"
Signals​
For your strategy to do something, it has to emit a signal. There are signals for telemetry and for position management. Check out the pages below to get started.
| Signal Type | Use Cases |
| --- | --- |
| Telemetry | Adds markers to the chart view, logs important data, etc |
| Position Management | Enter and exit long and short positions |